Become 2023's First Powerball Millionaire!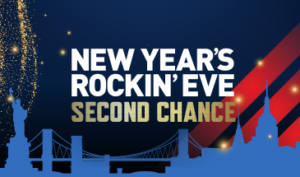 It won't take long for one lucky Powerball player's dreams to come true in 2023, thanks to the return of the First Powerball Millionaire promotion.
In South Dakota, players may enter their non-winning Powerball tickets prior to the September 30 drawing for a chance to an all-expenses paid trip to New York City to ring in the New Year. Not only will both winners and a guest each get to take part in the New Year's Rockin' Eve festivities, but South Dakota's grand prize winner will be entered in to a nationwide drawing to determine 2023's first Powerball Millionaire!
The promotion is returning to its previous prize format of trips to New York City after two years of stay at home packages. You can read about the winners of the 2020 promotion and their experience here.
To enter the second chance drawing, scan your tickets with the Lottery's mobile app or enter your tickets online here.
You may also like
CELEBRATE THE STATE FAIR WITH OUR NEW SCRATCH TICKET
The $2 State Fair scratch ticket's $4,000 top prize is just the tip of the iceberg for players and fair goers alike.
READ MORE
Lucky Leprechaun Day is Back!
Celebrate St. Patricks Day the Good Fun way through the Lottery's Lucky Leprechaun Day promotion!
On March 17 2022 only, South Dakota Lottery players can buy 2 Lucky for Life quick picks and get another one free! In order to receive the free ticket, players must ensure that both quick picks are printed on the same ticket.
READ MORE