A Rockin New Year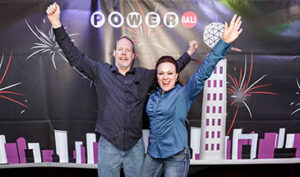 While neither walked away as 2020's first Powerball millionaire, it's safe to say Julie Plunkett and Kelly Engen won't soon forget the New Year's Rockin' Eve promotion.
Thanks to being named South Dakota's winners of the promotion, Julie (Kranzburg) and Kelly (Brookings) rang in their new year at Times Square. Each earned the trip through a second chance drawing that allowed players to enter non-winning Powerball tickets.
Julie was accompanied by her husband Dale on the trip, while Kelly brought his brother Dwight along. Both winners were more than excited to visit the Big Apple, but the experience exceeded all of their expectations.
"This was one of the best trips that I've ever been on," Kelly said. "Dwight and I both had an awesome time."
"The trip met all of my expectations and more," Julie said. "We took the opportunity to really get the most out of it. We were up early and up late, enjoying the city as much as we could."
Perhaps the most memorable portion of the trip was being in Times Square to welcome the new year. Both Kelly and Julie were surprised to see the sheer amount of people on hand to watch the ball drop, but they were also happy to enjoy some of the perks that were included with being a NY Rockin' Eve promotion winner.
"I didn't expect it to be the way it was," Kelly said. "I never really thought about just how many people go to see the ball drop. It was kind of amazing."
"It was a great experience on New Year's Eve," Julie said. "We had the best of both worlds. We got to watch the people who went through security to get to the street, while we had the comfort of the amenities. The people who were out on the street really endured a lot, while we were able to be indoors and had an amazing band preforming for us."
Of course, the trip included much more than ringing in the new year. Whether it was seeing the Beach Boys live or getting VIP treatment at a Rockettes show, both winners noted that the trip had plenty to offer.
"I have so many memories," Julie said. "The cruise on the Hudson was really cool. It was a different perspective to see things at night. The band was amazing. We got to meet a lot of great people on the entire trip. It was neat to go behind the scenes at the Rockettes and get a perspective of just how big it is. There's a lot of work that goes into that show. It's amazing."
 Kelly and Julie's prize also included an opportunity to become 2020's first Powerball millionaire. Neither South Dakotan was named a finalist, but there wasn't much disappointment thanks to everything New York had to offer.
"It's always cool to dream, right," Julie said. "I would have to say that I was just ecstatic to be able to take the trip though. I would have had more nerves if I was a finalist. It probably would have been a different experience for me though because I would have been so worked up and wouldn't have been able to enjoy it."