Fort Pierre man claims $390,000 Lucky for Life prize
[caption id="attachment_1240" align="alignleft" width="363"]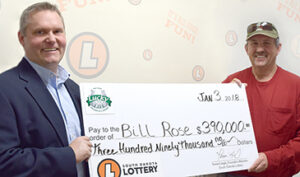 Bill Rose (right), pictured with Lottery Deputy Executive Director Clark Hepper, became South Dakota's first Lucky for Life second prize winner.[/caption]
Pierre, S.D. – Fort Pierre resident Bill Rose rang in the new year by becoming South Dakota's first big winner of the Lucky for Life lotto game.
Rose claimed the game's second highest prize of $390,000—he also had the option of receiving $25,000 a year for the rest of his life. Rose purchased his big winner at Lynn's Dakotamart in Fort Pierre, earning a prize with odds of 1-1813,028. Lynn's Dakotamart will receive $500 for selling the winning ticket.
Lucky for Life is a relatively new game in South Dakota, as sales throughout the state began June 5, 2017. The new game caught Rose's attention immediately, and his increased play over time paid off in a big way.
"I had been playing it off and on, but I started playing it more frequently, lately. I have been buying tickets every week," Rose said. "The game appealed to me because you have a bit better of a chance of winning than some of the other games."
After the Dec. 4, 2017, drawing, Rose wasted little time in discovering his big win. He notes that he checked his tickets the next day before relaying the good news to his wife, Barb.
"I was checking my tickets the next morning, and found out that I had won. I told Barb that I won, and she didn't believe me at first," Rose said.
As for what he's going to do with his winnings, Rose notes that he will take care of some bills before ultimately deciding what to do with the rest.
"The best part about winning is not having to worry about money for a little while," Rose said. "I plan on paying down some debt, and thinking about what to do with the rest for a while."
In claiming his prize to begin the new year, Rose became the South Dakota Lottery's first big winner of 2018. He plans on continuing to play in the future, and he left a bit of advice for current players.
"You can't win if you don't play," Rose noted.
For more information on Lucky for Life, visit https://lottery.sd.gov/games/lottogames/luckyforlife/