Aberdeen resident claims Lucky for Life top prize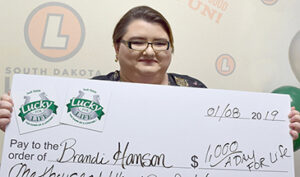 Brandi Jo Hanson's lucky numbers will pay dividends to the tune of $1,000 a day for the rest of her life.
The 23-year-old Aberdeen resident claimed her life-changing prize from the South Dakota Lottery after becoming the state's first Lucky for Life top prize winner. Hanson purchased her ticket at Ken's SuperFair Foods in Aberdeen prior to the Dec. 31 drawing.
"I feel very blessed. I'm very grateful," Hanson said. "It's life-changing. It's a little overwhelming. I was really scared at first, and I didn't know what to do. Now, after talking things out with my financial advisor, we have a plan."
Hanson somewhat created her own luck in ringing in the new year with the top prize. She notes that she purchases lotto tickets about once a week, and when she does, she chooses her numbers based on her grandmother's birthday, her grandfather's birthday or their anniversary.
In this instance, she chose her grandmother's birthday, which makes her win even more special.
"It makes me feel like she's watching over me up there," Hanson said.
Hanson's Lucky for Life win granted her a unique dilemma. She could either choose the game's $1,000 a day for life prize or a one-time payment of $5.7 million.
"At first, I didn't really understand," Hanson said. "At first, I thought it was only for 20 years, so I was originally going to take the lump sum. But after doing the math with $1,000 a day for life, I could get about five times that amount."
Hanson and her family wasted little time seeing if she was the winner after the drawing. She notes that her mother learned of South Dakota's winning ticket early the next morning, and the rest was history.
"My mom got up at about 3 in the morning to check her tickets, and she saw somebody from South Dakota won," Hanson said. "She told me to check if I won, so I went to the website and knew right away that those were my numbers."
Now that the initial shock of winning has subsided a bit, Hanson is beginning to make plans for her new wealth. Most importantly, she's hoping to give back to those closest to her.
"There's a lot going on in my head," said Hanson. "There's so much I want to do. The important thing I want to do is give back to people. I have a nephew who is 9, and I want to set up a college fund for him. I have a lot of ideas."
Hanson noted that she plans on continuing to play lotto games, and she left some advice for her fellow players.
"A lot of people don't play, but it can be pretty fun," she said. "I like choosing my numbers, and you should just go with what you feel in your gut."