Fort Thompson woman wins new truck through Lottery drawing
Raquel Moffer received an early gift this holiday season after a recent South Dakota Lottery drawing resulted in a unique prize.
The Fort Thompson resident claimed her prize of a brand new Ford F150 Thursday after she was named the winner of the Lottery's Trucks and Bucks second chance drawing. The second chance drawing was an exclusive opportunity for the Lottery's Players Club members. Players had the option to enter non-winning Trucks and Bucks scratch tickets with the grand prize of a new truck up for grabs.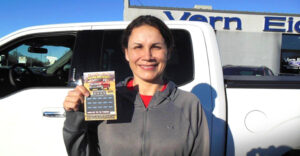 Moffer had participated in the Lottery's second chance drawings in the past, but her exhilaration multiplied when she learned what her prize was.
"I was actually at work when I made the call up to the Pierre office. When she told me I had won, I just thought that it was just some lottery tickets or $500 cash," Moffer said. "When she told me I won a new truck I was shocked. I was in the office, so my coworkers were wondering what was going on. It was an exciting moment."
While Moffer was no stranger to second chance drawings, it was actually the Lottery's mobile app that aided her in her win. Moffer used the app's ticket scanner to see if she had won on her initial scratch ticket purchase, which then prompted her to make a life-changing entry.
"I already have the Players Club for the $2 and $3 tickets, but I was at a gas station and saw the $5 Truck and Bucks ticket," Moffer said. "I thought this was how I would win my truck. When I scanned the barcode to see if I won, it said that I wasn't a winner on the ticket but I could enter a second chance drawing. I didn't even know there was a second chance drawing going on, so I entered it in."
After just a few taps on her phone, Moffer was among the 90,000 entries, and the rest was history. She advised fellow players to follow her lead and download the Lottery's app, which is available on all Apple and Android devices.
"Get the mobile app. It's very helpful, especially with the new tickets out," Moffer said. "You can scan the tickets to see if you're a winner or not then you have the second chance option if it's not. I've actually been promoting it quite a bit."
While Moffer drove off with a new truck, South Dakota Lottery players can still win the same prize. The Trucks and Bucks scratch ticket still has one top prize available.