Lucky Leprechaun Day is Back!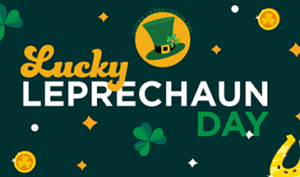 Celebrate St. Patricks Day the Good Fun way through the Lottery's Lucky Leprechaun Day promotion!
On March 17 2022 only, South Dakota Lottery players can buy 2 Lucky for Life quick picks and get another one free! In order to receive the free ticket, players must ensure that both quick picks are printed on the same ticket.
Even better, players are not limited to one free ticket. For a player to receive multiple free tickets, they must get each pair of quick picks printed on a separate ticket. Please note that the Lottery's vending machines are not included in the promotion.
Lucky for Life, which offers players a top prize of $1,000 a day for life, debuted in South Dakota on June 5, 2017. Since sales began, South Dakota has been home to one top prize winner, as well as six second prize winners of $25,000 a year for life. Lucky for Life draws occur every day.
Official rules for the Lucky Leprechaun Day promotion can be found at https://lottery.sd.gov/docs/LuckyLeprechaun.pdf.