Brookings resident claims $252,392 Dakota Cash jackpot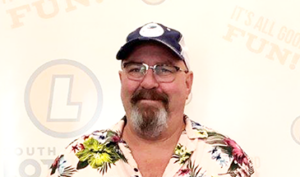 Damian Mullaney suddenly has 252,392 more reasons to be thankful after Saturday's Dakota Cash drawing.
The Brookings resident became the South Dakota Lottery's latest big winner with the $252,392 prize. The jackpot ranks as the 13th largest in Dakota Cash history.
While Mullaney will happily join the ranks among the largest Dakota Cash winners, he did note that the jackpot didn't affect his purchase. He and his girlfriend made the purchase at The Corner Gas & Goodies in White but did so a little earlier than usual due to the store's current remodel.
"We normally buy our tickets from that store because it's only about 5 miles from our house," Mullaney said. "We knew we had to buy them early because they were going to close."
Mullaney noted that he buys lotto tickets on a regular basis, but South Dakota's exclusive draw game, Dakota Cash, appeals to him due to its odds.
"We buy the same set of tickets every two weeks. Dakota Cash is what we buy, and part of the reason for that is because it's only here. We figure that gives us a better chance," Mullaney said.
Mullaney's Dakota Cash preference paid off in a big way, as a scroll through a Facebook timeline soon proved to be a memorable one.
"(Mullaney and his girlfriend) were sitting on the couch Saturday night and started scrolling through Facebook," Mullaney said. "We follow the South Dakota Lottery and saw the post that the jackpot had been won. I thought 'crap, the jackpot was hit.' Then, I read where it was sold and pulled the tickets out and saw the numbers matched."
Once reality sank in and Mullaney realized he was the jackpot winner, he summed up his emotions in one word—relief. He notes that the jackpot win will go a long way in taking care of some bills.
"This allows everything to be taken care of and gives us a little left over to go play," Mullaney said. "We have a possible RV in the near future, and we can cover some bills."
While Saturday's jackpot win was certainly life-changing, Mullaney isn't through with his jackpot dreams. He will continue to play in hopes of landing an even greater prize.
"You can't win unless you play," Mullaney said. "I will continue to play because this is not our big one. I hope you see me again in the next two years for a big, big jackpot. I can feel it in my bones."
The Dakota Cash game is exclusive to South Dakota with drawings each Wednesday and Saturday. For more information on the game, visit https://lottery.sd.gov/games/lottogames/dakotacash.
The South Dakota Lottery reminds all players to please play responsibly. It only takes one ticket to win.