Rapid City Resident Claims $168,007 Dakota Cash Jackpot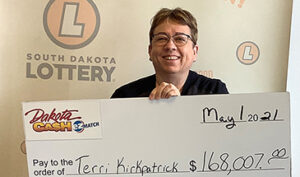 Terri Kirkpatrick's routine stop at a gas station soon proved to be a life-changing event after Saturday's Dakota Cash drawing.
The Rapid City resident recently became South Dakota's latest Dakota Cash jackpot winner after she claimed her $168,007 prize. Kirkpatrick purchased her ticket at Big D Oil Company, located on Lacrosse St. in Rapid City.
"I bought them Saturday night at around 5," Kirkpatrick said. "I had been to my sister's house in Box Elder and stopped at Big D's to get gas and the tickets."
Kirkpatrick noted that she and her husband purchase Dakota Cash tickets on a weekly basis, but this time, she had some good omens that may have helped her win her first jackpot.
"When I bought them that night, I told the clerk that I'd come back over and give him some cash after I win," Kirkpatrick said. "That day was my deceased brother's birthday, so I think my brother was looking out for me too."
After her purchase, Kirkpatrick didn't put too much thought into her tickets as her husband checked them Sunday morning. That quickly changed when her husband's demeanor led her to believe she was about to experience a life-changing win.
"At first I thought he was messing around with me because he likes to do that," Kirkpatrick explained. "Then I realized that he had a different tone to him and thought that he wasn't messing around. I ran right out of the bedroom after that. I was getting teary eyed. I was so excited."
Now that they have experienced their winning moment, the Kirkpatricks have specific plans in mind for their prize. The family plans to take care of some bills, while also saving some for some fun.
"We have loans at our bank for my husband's truck and my car. We have a loan to help my daughter pay for college. We are going to pay all of that off," Kirkpatrick said. "We also plan on going fishing in Alaska next year."
Even after her big win, Kirkpatrick noted that she still plans to get her Quick Picks on a weekly basis. She also left a piece of advice for all of her fellow Lottery players.
"Never say never," Kirkpatrick said. "You could always have a winning ticket. This is awesome!"
The Dakota Cash game is exclusive to South Dakota with drawings each Wednesday and Saturday. For more information on the game, visit https://lottery.sd.gov/games/lottogames/dakotacash.