Garretson Resident Claims Polaris Ranger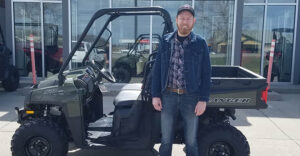 Jacob Tyrell's interest in the SD Lottery's Dollars 'N' Dirt ticket translated into a new set of wheels.
The Garretson resident is one of our latest top prize winners, but unlike many of our players, Jacob's prize doesn't come in the form of cash. Thanks to his winning ticket purchased at the Holiday Station in Sioux Falls, Jacob drove off with a new Polaris Ranger 570.
Jacob doesn't purchase lottery products often, but he noted that the Dollars 'N' Dirt ticket caught his attention.
"Some of my buddies have a Ranger, so I know how fun they are," Jacob said. "I do work at a lottery retailer, and we hadn't had that ticket in a while. When I saw the ticket at the station we had stopped at, I thought it would be fun to just try it. We bought a few, and we won."
While Jacob's hopes ultimately came true, his win was met with a state of shock. He noted that he delayed beginning the claims process for his prize due in part to his disbelief.
"I saw the symbol on the ticket and knew what it meant," he said. "I still second guessed myself and wondered if I was thinking wrong. I looked at it and just couldn't believe it. I actually held onto it for a day then brought it in to work the next day to see if it was a winner."
Even after claiming his prize, Jacob's big win didn't fully sink in until he received the keys in his hand. As he was receiving his prize, more suprises were in store as Jacob pointed out that his Polaris Ranger was even better than expected.
"I borrowed a trailer and we got to the dealership," Jacob said. "We pictured something smaller than that, and I wasn't sure if the trailer was even big enough. It really sunk in then. We didn't think it would be this nice."
Now that he has his new vehicle, Jacob has plenty of plans in store for his new Polaris Ranger 570. He plans to use his new ride throughout the summer, especially after making a few upgrades to make it his own.
"I'm going to get a windshield for it license it and cruise around," Jacob said. "I'll probably drive it to work during the summer, and we will just go cruising. Especially when we can't hang out with friends right now. This gives us something to do."
South Dakota Lottery players still have two chances to win a new Polaris Ranger 570. The Dollars 'N' Dirt ticket is still available at retail locations throughout the state, while a second chance drawing exclusive to Players Club members will take place October 16. For more information, visit https://lottery.sd.gov/players/promotions/playitagain/.