Sioux Falls Resident Wins $13,000 in James Bond Lottery Challenge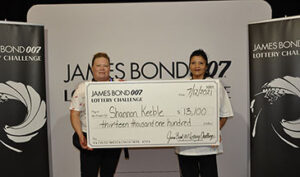 Thanks to the JAMES BOND Lottery Challenge, Shannon Keeble's second chance win and trip to Las Vegas was much more than she anticipated.
The Sioux Falls resident was South Dakota's winner of the 007™ instant game second chance drawing, winning her an exclusive trip to Las Vegas to participate in the JAMES BOND Lottery Challenge. While the trip made her second chance entry worthwhile, her subsequent $13,100 prize made it even better.
"I didn't expect to come back with a prize like that," Shannon said. "I just wanted to enjoy the trip and didn't expect more than that. $13,000 is a lot of money to me."
Shannon was one of 112 Lottery trip winners from across the country who were playing for the chance to win up to $1 million or more. Although Shannon didn't become a millionaire, she was still a big winner.
"I was nervous at first, but it helped that I was the last person in my group to go. That kind of calmed me down," Shannon said. "It was crazy. I had a chance to win $1 million if I would have hit the 007 symbol again. I was happy with what I won though, so I was excited."
The $13,100 check undoubtedly make the trip worthwhile, Keeble also noted that she made memories that will last a lifetime. The trip was her first to Las Vegas, and it was worth the hype.
"I had a great time. I was scared at first, and I was expecting Las Vegas to be a lot different than what I'm used to, but it was a lot of fun," Shannon said. "We went on the Ferris Wheel and to the Las Vega strip. We just had a great time."
While Keeble has returned to the Mount Rushmore State, she's still enjoying the benefits of the trip. She noted her excitement for her additional plans but is still deciding what she will do with it.
"I don't have plans for the money yet. I haven't thought about it too much," Shannon said.
While Keeble is still finalizing her plans for her prize, she is sure of one thing. She will continue to take a second chance through the Lottery's Players Club, and she has advised her friends to do the same.
"Keep putting in your non-winning tickets. I tell everyone now. I never thought I would win anything, and now I know it's possible."
Keeble won the trip to Las Vegas through the 007™ second chance drawing from the South Dakota Lottery. Her entry was among the 11,853 non-winning tickets entered.
The South Dakota Lottery's second chance drawings are exclusive to the Players Club. For more information on the Players Club, visit https://lottery.sd.gov/players/default.aspx.
007 and related James Bond Indicia © 1962-2021 Danjaq, LLC and Metro-Goldwyn-Mayer Studios Inc.  
007 and related James Bond Trademarks are trademarks of Danjaq, LLC. All Rights Reserved.