Hartford resident wins Polaris Ranger in second chance drawing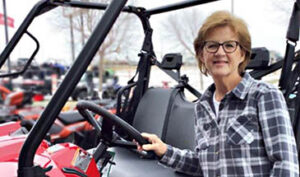 The South Dakota Lottery's latest second chance drawing winner believes her unique prize was destined to be.
Carol Callahan of Hartford is the most recent South Dakotan to make the most of her second chance, as she was named the winner of the Lottery's Polaris Dollars N Dirt drawing. The Dollars N Dirt drawing allowed members of the South Dakota Lottery's Players Club to enter their non-winning Dollars N Dirt scratch tickets for a chance to win a new Polaris Ranger 570.
While nearly 5,000 non-winning tickets were entered into the second chance drawing, Callahan believes her win was meant to be.
"I have a significant other, and he's getting older, so he liked playing scratch tickets in the evenings," Callahan said. "He always thought he was going to win the truck or the four-wheeler. He was not computer savvy, so I always entered his tickets for him. He's currently in Hospice right now, so I feel like he had something to do with me winning the ATV."
Callahan also had reason to believe due to her previous Lottery success. In 2015, she was one of South Dakota's Monopoly Millionaire winners, earning herself and a guest a trip to Las Vegas.
"I've been doing the second chance drawings for many, many years," Callahan said. "I had won that Monopoly second chance drawing and got that trip to Las Vegas. I took my sister along and had a great time. I've just always entered them."
Callahan notes that she enjoys playing scratch tickets most but occasionally plays the South Dakota Lottery's lotto lineup depending on jackpot amounts. She also pointed out that the second chance drawings exclusive to Players Club members provide even more excitement.
"I'm a firm believer in entering the second chance drawings," Callahan said. "Stop throwing away your tickets. Only one could help you win that second chance drawing. It's not like you have to enter hundreds of them. All you need is one."
Callahan has specific plans in store for her new set of wheels, but she doesn't plan on putting many miles on the Polaris Ranger 570. She notes that she will explore her options with the prize, as she looks to lend her daughter entering law school a helping hand.
"My daughter has been going to school at USD," Callahan said. "When she was home this spring, she really helped me get over the hurdle to improving myself. She's now going to be going to law school and has a little Ford Focus. What I would like to see is for her to get an SUV. I'm wondering if I could do something to help her get an SUV with a trade in and possibly the ATV."
For more information on the South Dakota Lottery's Players Club and its second chance drawings, visit https://lottery.sd.gov/players/default.aspx. The South Dakota Lottery reminds players that you must be 18 years or older to play. Please play responsibly.