Philip woman wins $25,000 a year for life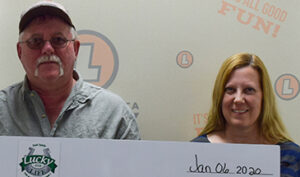 Karen Hart's trip to her local grocery store will pay dividends for the rest of her life thanks to a last-minute decision to buy a Lucky For Life ticket.
Hart's purchase will yield her $25,000 a year for the rest of her life, as she claimed the Lucky For Life second prize. Hart purchased her ticket at Coyl's Super Valu in Philip. As she was preparing for a visit from her grandchildren, a Lucky For Life ticket wasn't exactly on the top of her mind.
"I just went to the store for milk, macaroni and cheese and hot dogs for the grandkids, and I decided to get some tickets," Hart said. "I asked (the store employee) to get me a Powerball, a Mega Millions, and I said 'give me that one that draws tonight.' I didn't even know what it was called."
As she was completing her purchase, Hart notes that what she thought was a canned response by the store employee soon became an accurate prediction.
"She slid it across the counter and said 'this is a winner.' I kind of laughed because they always say that," Hart said. "I'll probably get her a thank you card and throw money into it."
While Hart occasionally enjoys South Dakota's lotto lineup, her Lucky For Life purchase wasn't routine. The fact that she purchased her ticket in the spur of the moment made her big win an even greater shock.
"I don't buy tickets regularly," Hart said. "It was just a whim that night. I just wanted to get some tickets and see what happens. I didn't expect anything to happen."
As she was hosting her grandchildren, Hart noted that she didn't think much of the ticket until her husband Doug's son broke some news. He said that a winning ticket was purchased at Coyle's Super Valu, and Karen stopped cooking breakfast to check her ticket. She said that Doug burnt the hash browns as a result of the distraction, which was ultimately a worthwhile sacrifice.
"(Doug's son) starting reading the numbers off, and I had hit five of them, and I was only off one on the Lucky Ball," Hart said. "I said that it was five numbers, and I know from experience that five numbers is something. (Doug) was being a naysayer, and he looked up the numbers again."
Karen may have known she had a big winner, but the news took some time to sink in. As it started to hit her, she also had a big decision to make. She could either take Lucky For Life's annuity option of $25,000 a year for life or the cash option of $390,000.
She ultimately chose to receive $25,000 a year for life, as it provided her with the most financial security. The Harts will also have some fun with their initial payment, as they noted they have a specific purchase in mind.
"I figured that if you took the one lump sum, you could probably easily spend it and have nothing to show for it," Hart said. "This way, every year I get a little. This is kind of a little bit of extra security, and Doug and I are going to buy a car. I'm going to also put aside a little by little to get my mortgage paid off."
While Hart is now set for life to the tune of $25,000 a year, she will continue to play here and there. She even noted that she's tested her luck since her big win.
"I'll probably continue to play a little bit. I've already bought some tickets since" Hart said.
Lucky For Life is offered in 25 states, plus the District of Columbia. Drawings are held every Monday and Thursday. For more information on Lucky for Life, click here.