Pierre Man Claims $100,000 Powerball Prize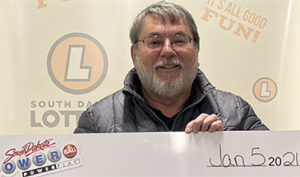 Lyle Hertel's 2021 got off to a great start thanks to the first Powerball drawing of the new year.
The Pierre resident recently claimed a $100,000 Powerball prize as a result of the January 2 drawing. Lyle's ticket matched 4 of 5 winning numbers as well as the Powerball to earn $50,000, and his decision to purchase the Power Play add on doubled his prize.
Lyle purchased his winning ticket at Don's Sinclair, located on E. Dakota Ave. in Pierre. Lyle is a loyal customer of Don's Sinclair, so his hopes grew when he saw messaging from the SD Lottery that a winning ticket was sold there.
"We saw that the place where I buy my tickets sold a winner," Lyle said. "A couple of my coworkers and I decided to pull it up, and sure enough, I had the winner."
Lyle's increased hope turned to disbelief as he quickly had his coworkers confirm that he was indeed the SD Lottery's latest big winner. At the time of claiming his prize, Hertel noted that his coworkers were the only people who knew of his big win, as he looked forward to giving his wife a pleasant surprise.
"I've only shared it with three of my coworkers, and that's it," Lyle said. "I haven't even told my wife yet, but she's going to be very happy."
While the excitement surrounding his big win has only begun, Lyle has specific plans for his prize. He notes that he will use it to pay some bills and treat himself to a new ride.
"It's great. I'm in need of a pickup, so I was hoping for a way to help me get that," Lyle said.
Hertel noted that he will continue to play after his big win, but he also left a good piece of advice for his fellow players.
"Remember to play responsibly," Hertel said. "I know that the Lottery isn't a get-rich quick thing, so always be sure to limit yourself."