Pierre Resident Claims Polaris Ranger 570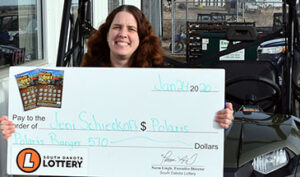 Jeni Schieckoff's dreams of becoming one of the South Dakota Lottery's big winners recently came to fruition, and her long-awaited prize will get plenty of mileage.
Jeni was the South Dakota Lottery's Dollars 'N' Dirt second chance drawing winner, which gave her the prize of a brand new Polaris Ranger 570. Like all South Dakota Players Club members, Jeni entered her non-winning scratch tickets for a second chance at a new ride.
While Jeni has always thought about what it would be like to win a contest like this, the reality didn't quite sink in immediately. Her reaction to winning was disbelief, which really didn't subside until she got the keys to her prize.
"I was in complete shock when I found out, then the excitement kicked in. It didn't feel real at first, and I think it's because I didn't see the Ranger in front of me yet," Jeni recalled. "I won the lottery! My life dream was to be able to hold a real-life lottery ticket with my name written on it. I not only got to do that but won a Polaris Ranger."
While many lottery-related dreams are feature cash, Jeni noted that her prize was a welcomed one to say the least. In fact, Jeni and her family have already begun to experience "Good Fun" with the Polaris Ranger.
"I always wanted a four-wheeler,"she said. "This is better than a four-wheeler. I took my fiance, kids, parents, sister and nieces out mudding over the weekend. It was a great day for the whole family. I haven't seen my parents smile and laugh that much in many, many years."
Jeni's luck may not end with her new Polaris Ranger. She notes that she will continue to play, especially when opportunities like second chance drawings present themselves.
"Nothing will beat the fact that I won a Polaris Ranger, but anything is possible, and I might top that one day," Jeni said. "I actually just heard about a new second chance drawing, and I will be going to buy tickets right after work."
Jeni notes that she enjoys playing the lottery as well as taking part in the Players Club's second chance drawings. She even pointed out that she's offered advice to her fellow players when it comes to playing, as well as staying up to date with the latest news.
"My advice would be to download the mobile app because it's extremely easy to use. You can check to see if you are a winner and enter in the second chance drawings all from your phone," Jeni said. "I also would tell people to follow the Facebook page to keep up with any new tickets that are coming out and the prizes available."
As she continues to enjoy her new ride, Jeni was also kind enough to leave one last bit of advice for South Dakota Lottery players throughout the state.
"Life is short. Take a chance. Buy the ticket. Enjoy the ride."
The South Dakota Lottery's Players Club is free to join. For more information, visit https://lottery.sd.gov/players/default.aspx