Sioux Falls woman claims record Dakota Cash jackpot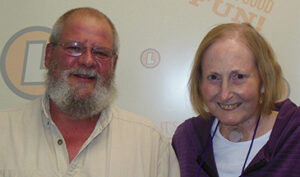 Lynda Blesi's patience was a virtue as her years of playing Dakota Cash paid off in a big way.
Blesi is now the Dakota Cash game's top winner after claiming her $614,181 jackpot Tuesday. The $614,181 prize is the largest in the game's history since its launch in 1994.
Blesi, who is retired and lives in Sioux Falls with her husband, Pete, followed her usual routine to win the record-breaking jackpot. She purchased the ticket at the Hy-Vee Gas on Louis Avenue in Sioux Falls—where she purchases Dakota Cash tickets twice a week.
"She plays Dakota Cash because she gets up a couple of bucks all of the time," Pete said.
While Lynda followed her routine in purchasing her tickets, she didn't know she struck the jackpot immediately. Lynda noted that she discovered her ticket in her checkbook while she was paying bills and decided to see if it was a winner.
After learning that she had won, Lynda's shock was met by her husband's after she told him the news.
"When she told me she won, I asked her if she finally won $10," Pete said. "I checked the ticket about nine times to make sure it wasn't wrong."
Now that they have claimed the prize, the Blesis first order of business is paying off their house and vehicle. Of course, some of the record prize will also go toward another shot at winning. Lynda noted that she has already purchased more Dakota Cash tickets because you can't win if you don't play.